Vietnamese Tradition Massage, a cultural beauty
Posted by Admin
In concept to promote Vietnamese Traditional Massage, Vietnamese Traditional Massage Institute comprehends that massage is not simply a health care. Massage is a part of art and culture.
Traditional Massage would bring you closer to our history and tradition. From time to time, SF Spa constantly look for the ways to relax your body with best skills. Step into our world of care, where time is left at the door and a new journey begins…
Each country has its own massage or bodywork with cultural beauty covered inside. When Swedish massage is well-known with its slow and gentle massage strokes that releasing tension and bringing relaxation, Thai massage uses passive stretching and gentle pressure along the body's energy lines to increase flexibility, relieve muscle and balance the body's energy systems. Meanwhile, Shiatsu (or Japanese Massage) improves the flow of energy by using finger and palm pressure.
In Eastern countries, people assume that human survive thank to blood travel through the body. Good circulation means a good health and vigilant mind. Bad circulation causes tiredness and stress. Blood flow regulation will bring you a strong body and mind. Pressing the tiny spots called energy points is the key of control.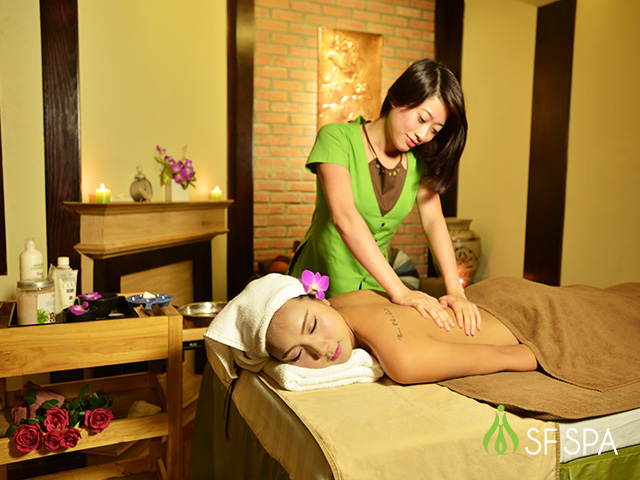 Techniques of Vietnamese Tradition Massage
Traditionally, Vietnamsese Tradition Massage is a combination of clapping and punching technic. These movements will make pressure directly on muscle and help relieve the pain. Pressing the energy points is a very important part, which increases the circulation necessary to remove the toxins from your body. This therapy is originally used as a medical treatment. The physicians use their artful hands to make pressure on muscle and energy points. For hundred years, blind people are trained to massage. Their hands can "see" the energy spots that our eyes can not see. Now it has been improved to be wildly used for entertainment purpose.
In SF Spa, we would put warm salt and herbal pillow under your neck and lower back during the massage that keep your body warm and cure a common cold. These herbal have magical health benefirts despite its popularity. Under the professional care of therapist, you would allow yourself to be fully immersed in a soothing music and pleasant fragrance.
Nothing can be compared with a Vietnamese Tradition Massage after spending all day long exploring Hanoi old quarter. Let yourself be pampered in a cosy traditional environment of SF Spa. Finally, let's take a walk around Hoan Kiem lake, having a Pho for dinner, you will definitely wish you could stay with us longer.
Keywords related to Vietnamese Traditional Massage
vietnamese traditional massage institute

what is traditional vietnamese massage

vietnamese traditional massage institute Hanoi